---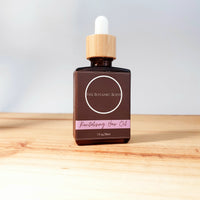 With botanicals such as:
- Indian Gooseberry (Amla), which is a very rich source of Vitamin C and has been used by the ladies of the Indian subcontinent for centuries to give them their thick, luscious locks, 
- Clary Sage, which helps strengthen hair and promote hair growth
- Rosemary, which is rich in nutrients that help stimulate blood circulation in your scalp and help improve hair thickness and growth
- and other botanicals with purposeful use,
The Revitalising Hair Oil is formulated to help with scalp care, help stimulate hair follicles and to keep your hair healthy, shiny and bouncy.
Directions:
Apply 5 - 6 drops to scalp and/or hair. This oil can be applied before or after hair wash.
If applying before washing your hair, it is recommended to leave on overnight, or at least a minimum of 30-60 mins before washing off.
If applying after washing your hair, apply to damp hair and dry/blow dry/style as usual.
If your hair is dry, it is recommended to apply only to the ends of your hair.
Ingredients:
Prunus dulcis (Sweet Almond) oil
Simmondsia chinensis (Jojoba) oil
Phyllanthus emblica (Indian Gooseberry) oil
Rosmarinus officinalis (Rosemary) oil
Salvia sclarea (Clary Sage) oil
Lavandula officinalis (Lavender) oil
30ml/1 fl.oz