---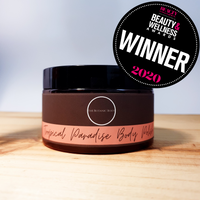 Our award winning body polish!
2020 Beauty Insider's Reader's choice award for Best Body Scrub (Best Organic / Natural Body Product 2020).
Inspired by the South East Asian flavours and scents, a gentle exfoliant, this whipped lemongrass and mint body polish will definitely emulate all the spa experiences you had on your holidays!
Containing Coconut oil and Moringa oil, a powerhouse combination and Himalayan rock salt, this body polish is sure to leave your skin soft, smooth and smelling like you are at the spa being spoilt!
Directions for use:
Scoop out your desired amount and add a splash of water to it. Mix it together until its creamy and velvety in consistency before lathering this luxurious scrub on. Wash off and towel dry. 
 P.S. Because our body polishes leave you incredibly moisturised, you will not need to using body lotions or creams after.
Ingredients: 
Halite (Himalayan Rock Salt), Vitellaria paradoxa (Shea nut) butter, Cocos nucifera (Coconut) oil, Moringa oleifera (Moringa) seed oil, Tocopheryl acetate (Natural Vitamin E), Cymbopogon (Lemongrass) oil, Mentha piperita (Peppermint) oil, Glycine max (Soybean) oil, Zea mays L. (Corn) oil, Sesamum indicum (Sesame) oil, Triticum vulgare (Wheatgerm) oil, Citrus limon (Lemon) oil